Experience Expertly-Fit Dentures in Tustin!
You may be getting dentures or know someone who is and there are a lot of questions surrounding them. Below we'll answer common questions in regards to dentures so you have all the information you need to help you make an informed decision on your dental health.
Dentures are composed of artificial teeth and gums that are specifically fitted to your mouth created by dental professionals to mend missing teeth.
Dentures come in a couple of different types — regardless of the type you're getting, you can be sure that you will get a custom fit that adds to the quality of life with aesthetics that match your already existing teeth.
Dentures – The Different Types
Dentures not only add to the quality of life by filling in the missing space, making it easier to eat, drink, and speak, but they also play a vital role in supporting the structure of your mouth.
Cosmetic dentistry dentures are a great option for those who need to replace multiple teeth that are causing severe pain and oral health concerns.
When dentures are fitted to the design of your mouth and cheeks, and your lips are supported, a healthy, beautiful smile emerges.
Partial Dentures
This type of denture is opted for when several teeth are missing or the natural teeth are not able to support other dental devices such as dental bridges. Partial dentures fit over the teeth and rest at the gum line while being secured by surrounding teeth to keep it from displacement.
Partial dentures are removable and can be removed for cleaning and sleeping.
Full Dentures (Complete Dentures)
Full dentures replace all of your natural teeth and can be fitted to the top, bottom, or both, in your mouth. These dentures are also completely removable — they adhere with a comfortable suction and the use of an adhesive — and can come out for cleaning and sleeping.  
Beyond partial and complete dentures there are a couple of other denture options.
Immediate Dentures
These dentures are temporary, designed to be used after a tooth extraction to help heal and aid in proper healing. The healing process can often last up to six months, so immediate dentures are a great option because they can be adjusted and refitted to accommodate any changes in the mouth.
Once your mouth is healed and ready for dentures, they can be discarded.
Overdentures
Overdentures are often chosen if you have a few natural teeth left or if traditional dentures are too uncomfortable. Overdentures sit at the root of a tooth and can rest on dental implants. Some opt for this denture type because they find it more comfortable, yet they are still easily removable.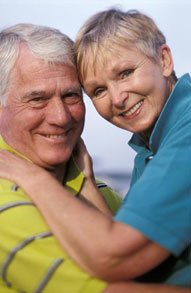 Implant-Aided Dentures
There is also a type of denture that is supported and fixed to dental implants. There are a myriad of ways they can attach to the dental implant, but it's recommended that you care for them in the same fashion as traditional dentures.  If you're ready to explore cosmetic dentistry dentures as an option for your dental health, schedule a comprehensive appointment with your dentist in Tustin today.
If you are interested in restoring your smile with Dentures from Rafi Dental Group,
Call 949-216-4831 to learn more, or schedule a consultation at our Tustin, CA office!